Operative Notebook App | Released for purchase on Apple's iTunes App Store: April 27, 2011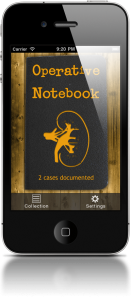 Operative Notebook created by Michael W. Fountain, D.O. is a learning aid designed to facilitate recall of operative pathology encountered while studying, on rounds, and in the OR.
Created BY a surgeon FOR surgeons and residents, Operative notebook makes it easy to share images and data with colleagues [N.B. all patient identifiers MUST be removed to protect patient privacy] promoting discussion and learning.
FOR STUDYING:
Use Operative Notebook to make your own "flash cards" for studying. If you generate the data on the cards yourself, you have a better chance of remembering it.
Hall way rounds are easier and more productive when you have notes and images close at hand.
Questions for Chief Resident/Attending? Snap a photo and have it in your pocket.
IN PRACTICE/ON ROUNDS:
Use the NOTES section to record pearls of wisdom gained on rounds and important information learned while reviewing for boards.
Use the COMPLICATIONS section to record opportunities for improvement when similar cases are encountered in the future.
Use the PHOTO COLLECTION feature to keep preoperative/postoperative imaging at hand or to keep reminders available for study review.
Sort cases by Organ system for easy retrieval and review
Track TNM status, margins, recurrence and any adjuvant therapy provided.
Purchase your copy today at Apple's iTunes App Store by visiting –  Operative Notebook
If you need assistance with Operative Notebook, please contact Operative Notebook Support.