Welcome to the Orchid Notebook App information page. Orchid Notebook lets you build a personal database of your orchid collection.
Version 1.5.0 is now available at the iTunes App Store.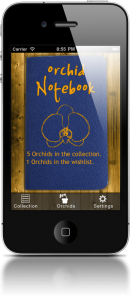 Orchid Notebook app for iOS 4.0 or later for iPhone/iPod touch/iPad allows orchid hobbyists and growers to track their orchid collections and wish lists in a database. The app also offers a reference section aimed at new orchid enthusiasts. The reference guide includes descriptions, care, and propagation of orchids. The Orchid Notebook was created as a way to keep track of growing orchid collections and expanding wish lists from a handheld device.
Orchid Notebook is being released with the realization that it is a work in progress and will be developed more fully through periodic upgrades based on the needs of the developers and customer requests.
Key Features:
* Learn basic information about orchids
* Discover how to care for orchids
* Read about propagation techniques
* Enter information about the orchids in your collection into the database
* Enter photos of your orchids in your collection
* Build a wish list of the orchids you want to buy
* Export your collection and wish list information via a comma separated value (csv) file allowing the user to import the information into a spreadsheet
* Save a backup of your orchid collection datafile and share it with your other devices (iPhone/iPad)
Collection fields (in the Orchid Database):
* Genus name
* Species name
* Grex name
* Orchid Information – awards, flower color, fragrance, fragrance description, size of plant, size of flower
* Orchid Purchase Information – price, date, source
* Have or Want – the orchids you want are color coded in red
* Growing Conditions – temperature, lighting, water quantity, location
* Orchid details – Mounted, potted, size of pot, month last bloomed, date of last spike,date repotted
* Orchid notes
* Photos of orchid – allows up to 3 photos of each orchid entry
If you want to know how to backup and restore your date, head on over to the OrchidNotebook website to get the details.
If you need any help with Orchid Notebook, please contact Orchid Notebook Support.
What are you waiting for? Go download it.
By the way, we also offer a free version of the app that allows you to enter up to five orchids in the database so you can try the app before you buy the full version.