Counting the days until your kid's driver's license test? Teen Driving Log helps you keep track of practice hours on the road.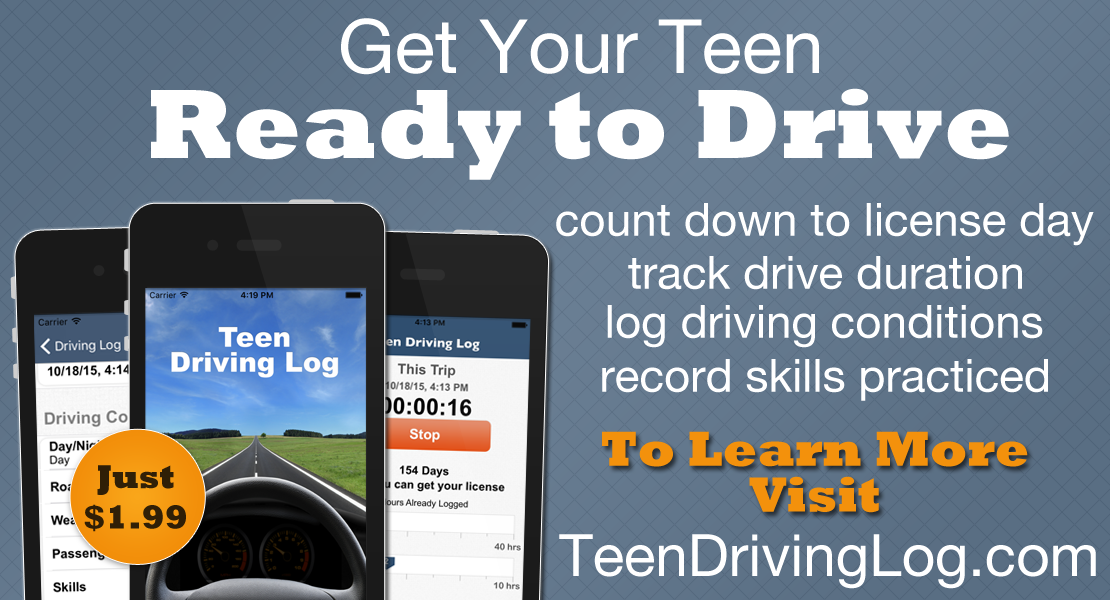 Most states require new drivers to complete a specific amount of behind-the-wheel time before becoming licensed. This behind-the-wheel practice driving time is often referred to as supervised driving. Each state has different supervised driving requirements and Teen Driving Log is flexible enough to be used to track any state's requirements. Our driving log has an easy-to-use interface that lets you log your teen's hours driven, driving conditions and skills practiced before the big road test. You can also share your kid's progress with others via email, Facebook and Twitter.
Get it today at the Apple App Store – Teen Driving Log.
For more information, see our Teen Driving Log website.
Features:
Track supervised drive duration
Log driving conditions
Record skills practiced
Count down to license day
Export data to CSV files for import into a spreadsheet
Graphical display that lets you easily see what percentage of your teen's required supervised driving hours have been completed
FAQ
Q. Does Teen Driving Log support multiple users?
A. This version of Teen Driving Log does not support multiple drivers or users, but we are looking into it and plan to add that to a future version.
Q. Is this App designed to be used while driving?
A. No. We do not recommend using any app while driving. Teen Driving Log was designed for "start" to be pressed before the driver starts moving and then the phone can be put away. When the driver has finished the trip, take the phone back out, press "stop" and then fill out the trip details. The way we use it is the passenger in the car starts and stops the app for the driver. That way the driver is not distracted.
Q. How come distance is not automatically entered?
A. This is not one of the features of Teen Driving Log. We have an entry in the log that you can input your own distance. We feel that it is a minor inconvenience. If you wanted the distance to be calculated, it would require an iPhone (with GPS) and it would quickly drain the battery. We wanted to support as many devices as possible (iPod touches too) so we did not add this feature in.
Q. Why can't I change the date of an entry?
A. You can. If you want to change a date, please be sure to change the start time first, since your trip can not end before it starts. If you try to change the end time first, it will not allow you to set it before the start time.
Teen Driving Log v 1 – User's Guide
Coming Soon: Teen Driving Log v 2.3 –  user's guide
If you need any help with Teen Driving Log, please contact Teen Driving Log Support.
Teen Driving Log uses the following source code (Thanks!):
TSAlertView code by Nick Hodapp.
Twitter+OAuth code by Ben Gottlieb
appirater by Arash Payan
MCSegmentedControl by Matteo Caldari